Long weekends are a great opportunity to hire a motorhome and discover some of the most beautiful scenery Scotland has to offer. Here are a few ideas of where to travel for the bank holiday weekend that will ensure you are making the most of your motorhome adventure…
Perthshire by motorhome
Home to some truly picturesque settings and charming villages. This area of Scotland is ideal for families, with play parks, wildlife centres, shops, café's and woodland walks. You will be spoilt for choice no matter where you are.
Comrie
Comrie is a quaint little village with a river running through it and access to the Deil's Cauldron walk. This walk will also access the Melville Monument which is a great viewpoint. There are many more riverside walks that can be found around this area and the locals will happily share their knowledge.
Crieff 
Near Crieff you will find Auchingarrich Wildlife Park. A great place for the kids with plenty of animals to discover and they even offer feeding and handling times and they have an indoor play barn.
Dunkeld
Exploring the areas around Dunkeld, Inver and Birnam will have you searching for a spot to spend the night to simply appreciate the beautiful scenery. Inver Mill Farm is a great campsite located on the banks of the river and just a short walk into Dunkeld.
Perthshire is a great spot for a weekend away with the kids or as a couple. It is a short drive from Dundee and you very quickly find yourself in peaceful surroundings, if you pick up a motorhome on a Friday afternoon you can be relaxing with a G&T by dinner time!

Gigha – an island adventure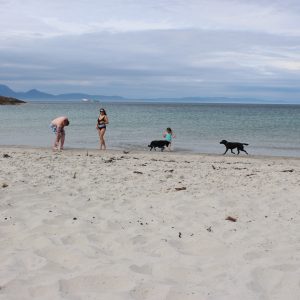 Known as God's Island, Gigha is just a short ferry ride from Tayinloan on the Kintyre peninsula. This stunning island is a true testament to Scotland. With white sandy beaches, crystal blue waters, the beautiful Achamore Gardens and friendly locals. You can hop on the ferry on foot to explore this tiny island or take your motorhome over to stay. You will be guaranteed a wonderful welcome. The island is around 7 miles in length and only 1.6miles wide and all of it is worth exploring.
Twin Beaches
The twin beaches at the north end are a must see. These unspoilt white sandy beaches lie back to back and in the summer you can spend many a day swimming in the clear waters, lazing in the sunshine and watching the boats sail by.
Stop by the shop where the hospitable owners Joe and Hannah stock Gigha produce and plenty of extras for a picnic on the beach, order Gigha oysters direct from Tony and Cat on 01583 505 237 or book The Boathouse Restaurant for an exquisite seafood meal.
Check out the timetable for the ferry by clicking here. You will not be disappointed. 
East Neuk of Fife – coastal dreams

The East Neuk of Fife is a haven of seaside spots of tranquility. There is something about being next to the sea that has a restorative effect on many. Not to mention how entertaining it is for kids, especially if you hire a motorhome to explore in.
Dive into the water on the beaches at Elie, devour the famous fish and chips in Anstruther and buy fresh crab and lobster in Crail. There is nothing quite like the coast.
Birds and wildlife
Don't miss an opportunity to sail on the May Princess from Anstruther to the Isle of May where you will be in awe of the wildlife on offer. Some 250,000 seabirds can nest here, including up to 120,000 puffins, and large colonies of guillemots, razorbills and shags. You will also find seals here and if you are lucky you may be treated to a meeting with a dolphin or porpoise, they love chasing the boats!
Find out more about taking a trip to the Isle of May here.
*Minimum three-night hire applies. Valid from 21/05/19 – 04/06/20